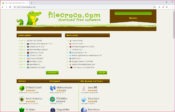 Want to stay safe and keep your data private as you browse the web? Then you can use the Epic Privacy Browser, an intuitive browser that's made to keep you safe and your information intact as you browse online.
With the Epic Privacy Browser, you can stay safe while searching the internet. One of the main concerns when browsing the web is that your data and information are collected by various sites and vendors, which can expose your data and spread it worldwide.
But this browser uses several tools to keep you safe from that happening.
User-Friendly Features
The browser's main features remain largely intact from all the major browsers you'll find out there today. It still has the main features that make browsers great, such as bookmarks, history, zooming in or out, downloading files and seeing a list of downloaded files, multiple tabs, language selection, and other settings.
This browser has the source code from Chromium, so it looks much like other Chromium-based browsers. So it should be quite similar to Google Chrome in many ways.
However, this browser's main focus is not on the looks and feels but rather on the performance and the safety it offers you when searching the internet.
Powerful Privacy Features Keep You Safe
You can use several security modes inside this tool to keep your data safe. You can activate these in the settings with just a few clicks.
Some of the main privacy settings or modes include the proxy mode, which will help you hide your IP when browsing. You can also block third-party cookies and disable plugins.
Other safety features include data encryption, "Do Not Track Me", which takes care of your privacy, ad blocker, and blocking lists. It won't store your searches, either. So you'll have all of the safety tools to remain as private as you want.
Conclusion
Epic Privacy Browser is a neat browser that lets you stay private while searching the internet.