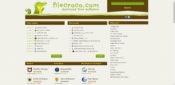 SlimJet is an award-winning free web browser that helps users easily navigate the Internet at an increased speed and under full protection. It has some great features that make it the first choice for many users, such as: one-click Facebook integration, a tool for downloading files at high speed and also instant photo upload and framing.
In order to help users save time, the software also includes a weather forecast feature, instant page translation, as well as the integration with multiple popular sites and platforms such as Twitter, Blogger, WordPress and others. Another great aspect of this application is the built-in pop-up blocker that proves to be very useful when browsing the internet.
Blocking spammy ads and banners helps users focus on the content they want to see and also reduces the resources necessary to load those files.
Unlike other free browsers, SlimJet allows users to customize the window through a large collection of skins, in different shapes and colors.
SlimJet features and benefits:
Ultra fast browsing and download
Integration with online virus scanners

Powerful and versatile plug-ins
Tasks and actions automation