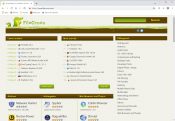 Cent Browser is an application that lets you get access to functions quickly through the use of mouse gestures. The statistics show that a lot of a user's time in front of the computer is spent online browsing the internet's content.
There are a lot of conclusions to be drawn from this. One is that programs people use are important to their daily comfort and enjoyment.
We recently took a look at Cent Browser, so let's give you a breakdown of its features and benefits:
Get the Power of Chromium
You may have heard of Chromium. It is the open-source web browser that Google developed.
It powers a lot of the browsers on the web today, including Chrome and Edge. It is known in the internet community for having powerful features and being relatively user-friendly, light, and secure.
Speed
Because of Chromium, this browser does not lack power or speed. It gives you a feeling as you might expect with similarly quick browsers.
That means you won't wait too long for pages to load.
Intuitive Interface
We didn't experience any trouble trying to navigate this browser. It is mostly straightforward. The vast majority of features are just a few clicks away.
Extensions
No need to worry if you are used to your plugins and extensions from other browsers. You won't need to give them up.
Sure, getting used to the new features will be a hassle, but most of the extensions you want will still be available.
Incognito
Any modern browser should offer privacy options. Today, hackers can access your information more easily than ever.
That's why Cent lets you browse anonymously.
QR Generator
First of all, it means that you can generate a QR code right from a URL. It is a particularly interesting feature. It's something that sets this browser apart.
It makes it friendly to use on mobile. That way, it's a convenient feature if you want to use the same browser on your PC and phone.
Additional Features
Some of the additional features in this browser are great, but they are pretty self-explanatory and don't need their section. It includes a customizable tab bar, quick mouse gestures, and a "BossKey".
The BossKey feature lets you hide the browser instantly for privacy or security threats. One could argue that this is the most distinguishing feature of this browser.
Conclusion
Investing in software that makes your browsing experience better is usually a wise idea. However, it can be hard to find software that meets your needs, which makes Cent Browser stand out so much. It gives you a great range of features that make it easy to enhance your browsing experience.
Overall, Cent Browser took a classic browser model and added a new twist. We think it can be useful for a protected, fun browsing environment.