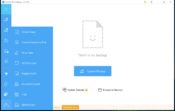 EaseUS Todo Backup is an effective app for creating backups for hard disks, volumes, operating systems, or custom files, creating restoring them, scheduling backups, verifying their integrity, and more.
When you want to create a backup for a file or the entire drive, then you want to have a reliable tool at your command. Many people also prefer to use the scheduled backups, which allow them to create a schedule of when the files or drives are to be backed up.
But it's always welcome to have additional tools at your disposal.
And that's what EaseUS Todo Backup has to offer to its users. It's an application that is primarily designed to help you create backups for different types of files.
Schedule Your Backups
One of the most welcome features that this application has to offer is creating a schedule for your backups. For instance, you can select exactly when you want to create a backup for a specific file or folder or your entire drive.
You can also edit other backup details, such as where the backups will be created and several different settings.
At the same time, you'll be able to protect your backups using a password, which adds another layer of security to the proceedings.
But before you create backups, you can check for errors to make sure that you're creating backups for something working. You can clone or remove files from the disk as well if you want to.
Works for Drives As Well
If you want to have large-scale operations, you can with this app. You'll be able to create backups for your entire drive or volume if you wish to do so.
Conclusion
To conclude, EaseUS Todo Backup is a highly effective tool for creating backups. You'll be able to create backups for single files or entire drives if you want.