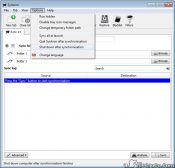 Synkron is a free application dedicated to synchronizing files and folders so that users always have access to the latest version of their files. Features provided by this software are not limited to synchronizing files but they extend to much complex processes such as restoring, creating blacklists or adding filters. These features come in very handy when multiple users work on the same machine and various versions of files are created.
Recovery of deleted or modified files can be done very easily and in perfect safety. Also, users should take into consideration the ability of synchronizing multiple files at once by using the multisync feature. Other useful features include scheduling and sync viewing, as integrated facilities. Synchronizations can be configured in detail, so that users receive exact result they need.
This application has a user-friendly interface that is very easy to use and understand.
It is working with separate tabs for each process, so that all the actions can be previewed separately.