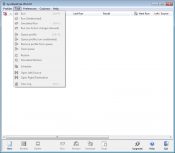 SyncBack is an application that serves a double purpose: it will help you create backups of your files and easily sync them.
If you've ever used a syncing tool, then you might have already heard about the tool – it's a fantastic application that allows you to perform two main tasks: synchronization of your files and creating backups.
It allows you to perform these tasks easily and quickly while setting up some work parameters.
Create a Profile and Get Started
Before you use this tool's capabilities, you'll need to create a profile first. With a profile, you'll be able to create backups and sync your files much easier than before because you'll have all the settings ready to go once you launch your app.
You'll also be able to schedule jobs to make it easier.
When you want to get going with the process, you'll want to select the destination of your backups or syncs. Then, you'll need to decide what operation you want to perform.
After that, you can specify what medium you want to use – the app will work with the most popular mediums, such as USB drives, CDs, DVDs, and others.
Advanced Settings
SyncBackFree should present no big dilemmas for the average user since it is so easy to use. But you should also know that if you're more of an advanced user, you'll have several other capabilities and features ready to be deployed.
You can customize various attributes for syncing. For instance, you can also set which programs are to be closed when you do each task.
You will also be able to filter the files you've copied or synced, which gives you a better idea of what files you're working with. You can also choose the receive the log of your tasks at your email address.
Conclusion
SyncBack is an excellent tool to use if you want to create backups, but it's also effective for syncing and other tasks.