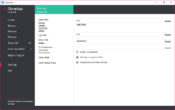 CloneApp allows you to back up files, edit, and backup registry entries, custom folders of your choice, single documents or files, and other types of documents you might want to save.
Creating backups might be one of the most important things you can do with your files. If you have many sensitive files that you don't want to lose, then you must do it, as it will save you the hassle of restoring the files or finding them if you tend to lose them or if you're afraid that you might lose them.
To help you back up your files, folders, and registry entries, you can use an application called CloneApp.
This application has all the necessary tools to create backups easily. It is intuitive and flexible enough to support various files and documents.
Works with Single or Multiple Objects
If you're looking for a tool that can help you back up almost anything, then CloneApp is a decent option. It will work with nearly anything you want to back up, including single files, folders, registry entries, documents, and other programs or files.
Once you open the application, it will display all the programs currently installed and the links to the frequently accessed folders you use often.
It will make it much easier for you to start creating backups without searching through the interface too long. In addition, it's highly flexible and intuitive to work with.
Custom Tasks
Most of the work done by the tool is automatic, but you can also customize the tasks by adding various files and features.
By hitting the Custom button, you can customize the task and add new processes, such as registry entries, for example, or other features you might want to use.
Conclusion
CloneApp is an intuitive application that you can use to create backups of single or multiple files, folders, or registry entries with ease.