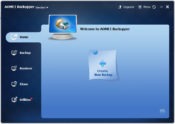 AOMEI Backupper allows you to back up your partitions, your operating system, and even an entire hard drive, clone drives, and verify the integrity of the files you've backed up.
Creating backups can be very important, especially since you want to ensure that all the files you have stored on your drive need to be safe and secure. If something happens to your computer or the disk gets corrupted, you'll want to make sure you can back up your files and partitions if it does happen.
You can use specialized software to create backups, such as AOMEI Backupper. This application will assist you if you want to create backups of drives, partitions, and systems.
It is designed for large-scale backups where you need a lot of space to create them, as it will allow you to restore your files and system settings without compromising on these files.
Easy to Use
AOMEI focuses a lot of its efforts on the simplicity of use. It has a relatively simple interface, and the backup process is quite simple, even if you're not an advanced user or have never used a similar tool.
The first step will be to select the drive, partition, or system files you want to back up. After that, you'll want to choose the destination path for the backups. You can also compress or encrypt the files you create backups for.
Finally, you can start with the process and make sure that your files are backed up.
Automate Repetitive Tasks
If you have some repetitive tasks and automated backups, you'll be able to schedule backups at specific intervals that you can define.
This way, you'll be able to ensure that the application creates the backups without you having to intervene often.
At that point, you'll also be able to verify the integrity of the files you back up.
Conclusion
AOMEI Backupper is the ultimate tool to use when creating large-scale backups. You can use it to back up partitions, drives, or system files, encrypt them, and verify the integrity of the files.