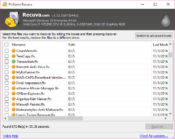 Recuva is a powerful recovery app that will enable you to restore almost any file you've deleted from your system, as well as view additional information about the files and apps you have.
It happens to the best of us – you might delete the files you might need in the future without intending to do so. If that happens, you might start considering the options you have when you want to recover the file. To do that, you'll need a dedicated piece of software to help you out with that complex task.
Luckily, you can use an application like Recuva to help you out. It is a simple application that will prompt you with a step-by-step interface for recovering the files you've deleted but need them back again.
It has a deep scan function which will help you scan the deeply hidden folders of your computer, which can take time but is very effective.
Recover Files
You can easily recover deleted files with Recuva. The purpose of this application is to help you recover the files you've mistakenly deleted or files that you need again, such as videos, images, music, and other types of files. There's no limitation as to which files you can try to recover with this tool.
This application uses a step-by-step procedure where you'll need to enter all your information before you need to recover the file you're looking for.
You can specify the type of file you're looking to recover or the file's location and the application will perform a Deep Scan on your computer to find it.
Find Out the Condition of the File
Once the application has conducted a search based on your parameters, it will display all the founded files. Also, it will let you know if the files can be recovered or not.
Conclusion
Recuva is a lifesaver if you need to recover files that you previously had on your computer and need them back for some reason.
Recuva features and benefits:
Undelete files on your computer
Recovery from damaged or formatted disks

Recover deleted emails
Recover deleted iPod music

Restore unsaved Word documents