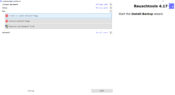 Reuschtools is a comprehensive and intuitive backup application enabling you to create backups of your OS and folders. It helps prevent suddenly losing data, which might happen for various reasons.
It also backs up your installed products, folders, or any external data on your device or network.
Save and Backup Files and Folders
If you want to start using Reuschtools, you must install it first. You can do that by downloading the tool and installing it, which is done quickly and seamlessly.
Once you install it, you'll access the tool's interface – which is not the most appealing of interfaces, to be frank. But there's only one goal of the interface: to give you quick and straightforward access to the tool's features.
Two main modes come with this tool. The first is the ability to back up your Windows and installed programs, which helps prevent sudden data loss.
Creating constant backups is essential, and this tool does exactly that by automating the whole process and allowing you to stay safe in the event of losing files immediately.
Another feature of the tool is to save files and folders easily, which is essential for safekeeping. It is another preventative measure that helps you keep your files safe if something unexpected happens or you forget to save them.
A Good Array of Configurations
With both options, you can select from various configuration options and settings that can improve your experience with the tool.
The first is the ability to encrypt the ZIP files created from your backups or saved files. It helps prevent others from accessing these files without knowing the password.
Another feature is to use the date and time and the archive's name to protect the files. You can also opt to either show or hide the paths of the files.
With the scheduler, you can delete the files on the disk after you have created the backup. With it, you'll also be able to access the control list easily.
Conclusion
Reuschtools is a comprehensive and intuitive tool that helps you protect your files and folders by backing them up and saving them so that you don't lose them suddenly.
It creates backups for your Windows folders by setting up restore points.