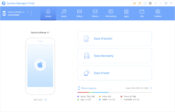 Syncios allows you to transfer apps, photos, videos, and ebooks between your PC and iPod, iPhone, iPad, or Android devices easily and seamlessly.
It's fully compatible with iPads, iPhones, iPods, and Android devices. To run it, you will need iTunes.
Beautiful and easy-to-use interface
The biggest asset that this app has to offer is simplicity. When you plug your preferred device into the computer, you'll have quick access to all of its features. With a neatly organized structure, finding what you need is easy.
The main feature of this utility is data transfer, which is what the app is built around. You can also personalize call ringtones as well as SMS ringtones with it.
You can also edit the device's name and view the technical details, and add, backup, or delete photos on the device connected.
Transferring Files Made Easy
One of the key features is the easy data transfer system it offers. You can import, export, and delete media such as photos and ebooks and create new playlists for media and photo albums.
Additionally, you can edit, backup, and access important information on the device, such as contacts, notes, bookmarks, call history, and messages.
It is great for transferring files to and from iOS and Android devices. It allows you to transfer files of any type, including images, videos, songs, playlists, wallpapers, etc.
A Wide Array of Additional Tools
Downloading video files is simple with Syncios. You can download batch video files from Youtube, Dailymotion, Vimeo, Facebook, Metacafe, or Niconico. If you love to change wallpapers constantly, you'll love this app. You can download wallpapers and ringtones from various websites straight to your phone.
You can access additional tools in the toolkit section. From there, you'll have different additional tools such as iTunes backup, library manager, file system explorer, converter for audio and video, device reboot, and other shutdown functions.
Plus, you can clear the cache, and you'll also be able to see crash logs.
Lightweight Package
Another bonus of this tool is that it's a lightweight piece of software. It won't consume too many resources but will still do the job swiftly and seamlessly.
The exceptional user interface ties everything together and makes Syncios a desirable piece of software.