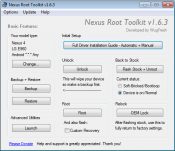 Nexus Root Toolkit simplifies the process of unlocking/relocking, rooting/un-rooting Android devices. Tools that you conventionally get in different packages are now unified in a simple solution. From rooting and unlocking to back-up features, this app knows it all. Users can flash zips, generate reports, restore Android back-up files and boot image files. Integrated TWRP tasks are automatically performed. In addition to that, the latest Android is supported on any Nexus device.
If not sure what version to install, the toolkit does it all automatically: it selects the proper version for your model, downloading, installing and updating it periodically.
The stock kernel can be rewritten to the device, so that users can gain back the warranty.
Nexus Root Toolkit features and benefits:
Supported Nexus devices:
Galaxy Nexus: GSM Models (both yakju and non-yakju builds)
Galaxy Nexus: CDMA/LTE Verizon Models
Galaxy Nexus: CDMA/LTE Sprint Models
Nexus S: Worldwide, i9020t and i9023 Models
Nexus S: 850MHz, i9020a Models
Nexus S: Korea, m200 Models
Nexus S 4G: d720 Models
Nexus 7: Asus Tablet
Nexus 7 3G: Asus Tablet
Nexus 7 v2 (2013): Asus Tablet
Nexus 7 v2 (2013) LTE: Asus Tablet

Nexus 10: Samsung Tablet
Nexus 4: LG Phone
Nexus 5: LG Phone

Nexus 5X: LG Phone
Nexus 9: HTC Wifi Tablet
Nexus 9: HTC LTE Tablet
Nexus 6: Motorola Phone
Nexus 6P: Huawei Phone

Nexus Player: Google Device

Nexus Pixel C: Google Tablet