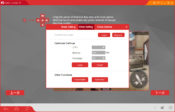 If you're looking to run an Android environment on your computer, you can use Droid4X, an Android emulator that will bring you the entire Android experience to your computer.
Many people are looking to try out Android before they purchase an Android device for the first time. That's why they might be looking to use an Android emulator.
The same goes for people who want to try apps available on this platform or even developers looking to try a few things out and test them.
And Droid4X is one of the most popular emulators out there. It enables you to emulate the entire Android experience on your phone, get the latest apps and try them out, and get to see just how Android works overall.
It will help you test apps or games and perform other tasks that might interest you.
Intuitive Android Emulator
As the name suggests, it is an emulator that focuses largely on Android. It is an emulator that brings the whole experience of owning an Android phone to your computer. With it, you'll be able to use the Android platform, install apps and games, try them out, and use various features of Android.
To create this environment on your computer, Droid4X relies on VirtualBox, which is the foundation of this app. If you don't have that app already installed, note that you might need to install it, and it's also worth mentioning that there might be some issues if you have the Oracle app installed, so you might want to remove it first.
Run Android Games and Apps
One of the primary reasons people use Android emulators is that they give you the ability to play and run games and apps.
It is whether you want to test them, or if you want to buy new games and see how they work on your computer, for instance.
Conclusion
To conclude, Droid4X is one of the more complete Android emulators that provides users with all the features and capabilities that come with Android.
Droid4X features and benefits:
great user experience due to high performance (50% better performance comparing to other emulators)

excellent graphics

, especially for games
you can play any game and test any app
you can use the

copy/paste command

from/to computer and emulator
mouse scroll for zoom is available