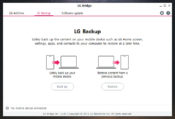 LG Bridge is a software solution that allows you to create backups, initiate firmware updates, and manage all the LG devices using AirDrive and Backup's two features. It contains more capabilities than the LG Mobile Support Tool that allows only firmware updates on the LG phones.
After you connect the phone to your computer using a USB cable or establish a wireless connection, the tool will begin the procedure when the desired items are selected. We have to say that the application is a little slow occasionally and needs more polish.
Otherwise, it comes with a clean, fresh, and intuitive interface that is unlikely to give you any troubles.
The primary advantage of LG Bridge, the Backup feature, will permit you to get a local and restorable copy of your LG phone information. Your files will be ready for restoration later on if you need to bring the phone to an older stage or if it gets stuck due to a software update.