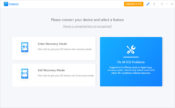 ReiBoot is an application that will help you recover your iOS data in just a couple of clicks and has an intuitive interface that allows you to keep your data safe and secure.
If you have an iOS device, you might need to perform boots or recover from time to time. Because you might lose some data or want to reset your phone, this feature will come in handy.
And ReiBoot is a great tool if you're going to do this quickly and painlessly, with just a couple of clicks.
Simplify Your Booting Process
Normally, when you want to boot your phone and put it into recovery mode, you must undergo a complicated and lengthy procedure. It involves connecting your phone to your computer, shutting it down, operating and organizing your iTunes files so you don't lose them, and much more. There are also boot problems that sometimes occur during the procedure.
With this utility, this entire procedure is made easy. You can quickly enter the Recovery mode in just a couple of clicks. When you want to do so, you open up the app, connect it to your iOS device, and get going in just a click or two.
You might want to go through this procedure in a couple of scenarios if your home screen is somewhat bugged, for example.
Or when you encounter the DFU black screen or the phone starts a reboot loop. In all those cases, you risk losing data and crashing your phone.
Compatible with Most iOS Devices
The great thing about this app is that you can use it almost in any case if you have an iOS device. It works for iPhones, iPads, iPods, and all Apple devices.
The app helps you keep your data secure when you do reboot or recovery mode procedures.
Conclusion
ReiBoot is an app that helps you recover iOS data easily and quickly in just a few simple clicks with an intuitive interface.