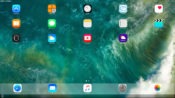 iPadian is a free application that allows you to bring the look and feel of an iPad interface to your Windows device. It is a simulator that will enable you to get the IOS devices' interfaces straight to your Windows device.
Many people who use Apple products quickly get used to the look and feel of these products. Because of that, it's hard for them to switch to another interface. It is especially notable on computers, where many prefer iOS-based systems over Windows operating systems.
If you're finding it hard to make the switch yourself and prefer the iPad interface over the Windows interface, there's a way to make this switch easily. You can do that with iPadian, a simulator that helps you easily and quickly switch from the Windows interface to the iPad interface.
Use iPad Interface on Your Windows Computer
iPadian will run only in fullscreen mode, so you need to note that before you start using it. The application will simulate the iPad interface by bringing the application icons for shortcuts on the virtual desktop. Also, a custom App Store will be on your desktop, which will get around an iPad feel.
There are not that many tools that you can use with this simulator. But, the good thing about this tool is that it has the App Store. In this store, you can browse all kinds of apps you'll find useful for different means. For example, if you need networking tools, you'll find them here; if you need other utility tools, they're there in the App Store.
IPA apps cannot be emulated with iPadian, unfortunately, although you're still getting a good amount of apps that you can use to create that feeling of iPad. Above all, it's a useful way of getting to know the iPad environment straight from your computer.
At the same time, you'll be able to use a whole host of different features that will allow you to use the computer easily.
Here is a short tutorial about how to install and set it up:
Easy to Use
Another great thing about this tool is that it's so easy to use. You don't need to be an advanced Windows or Apple user to get the hang of the simulator. You'll have some programs you know, such as Facebook, YouTube, Gmail, and a clock. You'll also have installed other tools, like the clock, calculator, and some games.
There will also be custom iPad settings you can take advantage of, such as the WiFi, airplane mode, and general settings, to help ensure you take full advantage of your device.
Conclusion
iPadian is an app that helps you bring the feel of an iPad to your computer. It allows you to use the App Store and get some apps to make you feel right at home on your Windows computer.