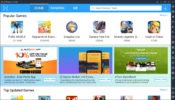 LDPlayer is an Android emulator that offers emulation for the most modern Android games on your PC. It has been optimized to run very effectively on PC hardware.
It means that it has better storage, GPU, CPU, and RAM capabilities than other similar software. It can turn your PC into a powerful gaming laptop or desktop machine.
It does this while allowing you to run the most powerful mobile software with high compatibility.
Compatibility
One of the impressive features of this application is that it can handle a variety of different kinds of games that you might want to play. Think of popular titles like Clash Royale, Clash of Clans, PUBG, or even Call of Duty.
You can improve your bandwidth and latency to play more effectively and win more often.
Installation and Use
This application is lightweight. It can be installed on versions of Windows that are the most modern installation. If you want to get the most out of this emulator software, the developers say you should check out the FAQ and tutorials they have made available on their site.
This online help is a way to find out any kinds of solutions that you might be looking for. It includes rendering, smooth frames, and more. Keep in mind that the better your PC hardware is, the better your gaming experience will be.
However, no matter what, you shouldn't have much trouble playing their 2D games.
Customize
There are four tabs in terms of customization. It goes from advanced, basic properties to network and shortcuts. You can adjust these settings however you want for the emulation.
The advanced tab is essential because it contains the configuration settings. You'll find many different custom resolutions you might want to play around with.
Here, you can also find active CPU cores and RAM, and you can even set up strings to tell the servers which device you're emulating at that moment in the game.
The basic tab, on the other hand, deals with things like microphone support, language, rotation, and window sizing.
Support
There is the ability to make custom maps and micros. That way, if you want support for finger taps or mouse and keyboard, you have your choice between the two. This makes it easier to go with your own playstyle.
Summary
All in all, LDPlayer is a fantastic way to emulate Android games on your PC. It's fast, it's light, and it's easy to use. Plus, there are a lot of options to customize your experience.
Because of those factors, it really stands out from the rest. And that's why we think players should consider downloading it today.