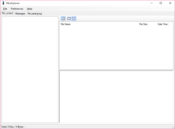 This application provides the facility for Nokia users to back up the entire data on the device. NbuExplorer has a Windows Explorer-like interface through which finding the required files and navigating around becomes much easier than other interfaces.
The scope of this application is extendable to the Nokia PC suite, so you don't have to analyze the devices supported by this application before you continue further. Additionally, it can also open the files that Nokia OviSuite creates.
To use the application, you'll have to interact with a dual-pane information panel and a list of internal files, which includes memos, calendar entries, bookmarks, etc., so with such an interface, you can find your desired files with great ease.
One of the limitations associated with the application is that it does not provide any help to the users. So, the users have to rely on their own experience or outside sources to learn the functioning of NbuExplorer. However, the usage of this application is not hugely complicated, so you can expect to learn through exploration.
NbuExplorer also supports the extracting of individual files from backed-up data. You can navigate the required file and extract the data in this case. So, in case you need a specific file, you don't have to restore the entire data.
This application also allows you to conduct a brute card scan for vcard data to help you keep your data safe. Additionally, it is available as free software, so you don't have to pay anything to keep your data secured.
NbuExplorer is an application to back up your Nokia device's data with an easy-to-use interface and convenient features to accomplish this purpose.