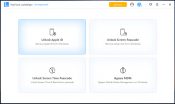 iMyFone LockWiper is useful for Apple users who own an iPhone or an iPad. It allows them to easily access their phone without knowing the passcode. That's especially helpful when you forget your passcode or don't know the correct password to your Apple ID.
It allows you to remove the lock screen in critical situations when you need to access your phone.
Various Apple Locks Supported
Not every Apple device uses the same type of locking, but this application ensures you can bypass the locking screens these devices have no matter what locking your phone uses. It includes 4-digit locks, 6-digit passcodes, Face ID, Touch ID, or custom numeric codes.
This application will be beneficial if you forget your phone's passcode, which can sometimes occur, especially if your phone is fresh. Additionally, this sort of situation is widespread when someone buys a second-hand Apple device, and there is a lock screen in place that you can't crack.
You need to use this app to help you when this happens to you.
Safe and No Data Loss
This app will remove the lock screen safely so that you don't lose any data during the process. It is important if you want to perform the lock screen removal softly and carefully, as opposed to some other techniques where data loss might occur due to the lock screen removal.
One of the requirements for this app to work efficiently is that the phone is already activated before you use the app. For the app to work effectively, it must already be set up.
It's a completely self-service application, and you won't need any technical skills whatsoever to get your device unlocked again.
Conclusion
IMyFone LockWiper is an essential application for Apple users who get locked out of their phones as they forget their lock screen or don't know what it is.
Easily remove Apple ID locks from your iPhone/iPad/iPod without using the password with this easy-to-use app.