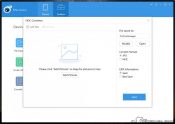 Create ringtones, download firmware, manage your content, and sync all the content with your iPod or iPhone with iTools, which can come very useful to all Apple users that own a device from this company.
Apple is undeniably one of the biggest companies in the world. They have some of the best devices on the market, including iPhone, iPad, while iPods are still quite popular.
When you have one of these devices, one of the more pressing issues is getting the content you want on all of your devices, no matter which one you're using.
To do just that, you can use iTools. This application is one of the most versatile and best tools to use if you own an Apple device. It will help you manage your content and keep it synced on all of your devices.
It can also be useful if you want to create ringtones, download firmware, and manage your devices easily.
Simple Interface
When you launch the application, you'll notice it has a relatively simple interface. In the main window, you'll be able to see all of the devices you've connected, and you'll also be able to browse your computer's library so that you can transfer files to your device.
Next, once you connect a device, you can see all media files on that device, such as music, photos, iBooks, and other docs. The application toolkits include a file explorer, battery management, storage management, screen mirroring for your device, a manager for the icons and an icon fixing utility, logs management, crash reports, and SSH tunneling.
Import and Sync Files
One of the main tasks for most users will be transferring files to their device from their computer. It will also come useful for other users to sync the files they have on their device with other devices.
This way, you won't have to transfer files for lengthy periods, and you can sync them instead.
What is more, you can also use this tool to back up and restore your information such as messages, contacts, and much more.
Conclusion
iTools is a great app to have for all Apple device owners. It will come useful for transferring files to their devices and making sure they're able to sync their contacts and messages.
iTools features and benefits:
Backup and restore your mobile device

Stream

multimedia files to other displays
Migrate the entire content to a new mobile device
Edit and manage your photos
Monitor the battery status for your device
Create

customized ringtones