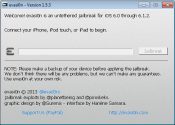 Evasi0n7 iOS Jailbreak is an unlock utility compatible with iPhone, iPod touch, iPad, and iPad mini devices running on iOS 7.0 – 7.0.4. This application can unblock your Apple device's wallpapers, software, and other programs.
After installing and running it, users can try free apps, update to new designs, integrate new ringtones, and do all the common sense things they expected from their device. Before using this utility, please make sure to back-up data, disable the lock password of the iOS if there is one, and close other apps running in the background.
There is no problem if the process stops. Reboot the device and start all over again.