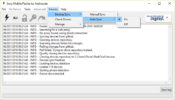 Sony Mobile Flasher is a powerful application for flashing Sony devices to install custom kernels. It has been made especially for flashing Sony devices such as X10 or Xperia Z Ultra.
If you're an Xperia phone owner and want to customize your phone, you'll want to start thinking about flashing it.
When you do this, you'll unlock many additional options, as you'll be able to install third-party apps and get Android updates even when they're not officially released.
To flash your device, you can use the Sony Mobile Flasher application. As the name suggests, the application is meant for owners of Sony devices. It is primarily meant for Xperia smartphones, although it will also work with other devices.
It's a highly technical application with many features, so it will mostly come in handy for those with some experience.
Made For Sony Mobile Devices
As the application's name suggests, it is primarily meant for Sony mobile users, especially those with Xperia phones and devices. It's a relatively new application to the market, but phone flashing has been around for quite some time.
It's perhaps the favorite way for phone users to unlock additional features with their phones.
It must be noted that before you use this application, it's quite welcome if you have some knowledge about flashing and also some experience. But this tool should guide you along the way, and there shouldn't be any major problems as you go on.
Connect Your Phone to Get Started
To start with your flashing, you must connect your phone to your device and then access the application's features. You should know that there are two boot modes when you use this application.
The first one will detect the firmware installed on your device, while the other is for more customization.
Conclusion
Sony Mobile Flasher is meant for slightly more experienced users, and it's intended to flash their devices, especially for Xperia phone owners, but also for some other phones.
Sony Mobile Flasher features and benefits:
root your Sony mobile fast and easy
flash your Sony phone with a custom ROM
install

busybox

and custom kernels
install

custom applications

after rooting the phone