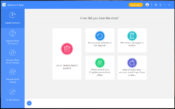 iMyFone D-Back allows you to recover lost files from your iPhone with the help of a powerful yet user-friendly interface.
Sometimes, keeping a hold of your data and files is impossible, especially if you store them on your phone and have many of them.
You might accidentally delete files you don't want to delete, or your phone crashes, and you may lose all of your files. Or, if you lose your phone or destroy it, you might never recover your files.
But with iMyFone D-Back, you can do that easily. It will help you find and recover your lost files, especially if they are highly important.
No matter where or how it happened, this tool will help you regain them.
Powerful Wizard with a Simple Interface
A great thing about this app is just how straightforward it is. It's great even for total beginners because the wizard is intuitive and easy to use. All can be adjusted from the main window; you don't need to access the Configuration panel.
But the wizard is powerful, as it has several strong functions that will help you recover your sensitive files. To do that, you first have to connect your iPhone or other ios device to your computer, and then the wizard will start scanning the device for lost files.
You'll have to tell the wizard how and why you lost files. It will change the wizard's approach to searching for your files.
For example, if you've accidentally deleted the files, it will scan your device and find the lost files. But if you've lost your phone, the wizard will scan the cloud backup for the files.
Select Files to Restore
Once the app has found your files, you can easily select which files to restore. It includes photos, videos, messages, contacts, and others.
Conclusion
iMyFone D-Back is a great data and file recovery tool for iPhones that will help you regain your lost files.
iMyFone D-Back features and benefits: