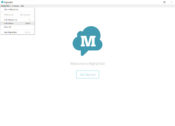 An application that allows you to manage to text to the contacts in your mobile phone using your desktop computer is MightyText. You have to install it on all the devices you wish to enjoy the texting facility.
However, it is not difficult. You can find the application from Playstore and Apple Store and download it as you would install any other application.
Apart from texting synchronization between your computer and phone, this application can also sync other types of data. So, you can easily edit your photos using the software on your computer and then send the pictures back to your mobile.
Additionally, the other files that you might want to get on your computer are easily possible by using this application.
One of the problems is that the applications you would use on your computer are not adjusted according to the screen size, so it can be problematic to use.
MightyText is an excellent application for synchronization features, but its interface is not appropriate as it does not support adjustments according to the device.