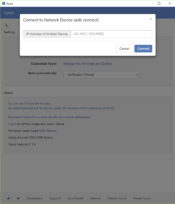 Vysor allows you to connect to your phone, display your phone's screen on your computer, and perform various tasks with your phone easily.
You'll be able to control your smartphone or handset remotely. It's a Chrome app that enables you to access your phone, as it will show you your phone's screen so that you can make changes to it.
For example, you'll be able to type messages, control your phone, and make changes.
Remote Connection to Phone
For running Vysor, you'll also need to install Google Chrome because this app is based on Chrome, and it will need Chrome to be installed and running to allow you to make changes.
You'll see that the application's main interface is rather simple, as you'll only be able to see the list of the detected devices and the ability to connect to them.
After you have selected the handset to connect to, you'll be able to get started with the changes. You'll see that the connection is possible with the USB cable, although you'll need ADB drivers to get full use of the application.
After that, the application should be straightforward enough to use.
Mirrors Your Android Phone
This application mirrors your Android phone on your screen so that you can control and change it. For instance, you'll be able to see and send text messages, take screenshots, and move the cursor around to make the apps.
You can open any app you'd like in the meantime.
You will be able to type using your keyboard, which might be an advantage to some users, especially if you're looking to type many messages as fast as possible in a short amount of space.
Other than that, you'll see that there are other changes that you can make to your phone using this app as well.
Conclusion
Vysor allows you to connect to your phone and use it on your screen. It may not be for everyone, but it can serve its purpose.