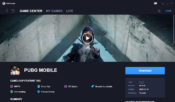 GameLoop is a next-generation Android emulator that will allow you to play some of the most popular Android games on your computer without any interruptions.
If you're looking to play some of the best Android games on your computer, then you can start using GameLoop. It's a next-gen emulator made by Tencent, the same company that has created PUBG mobile, a big hit for mobile gamers.
With the latest update, you'll get brand new tools and upgraded functionalities, as well as a completely new interface.
The Best Android Emulator for Gaming
For those who prefer to play Android games on other devices, especially your computer, then this app will be your best bet to use. With the newest update, you'll get a pristine and top-notch experience.
It improves on the things the first app used to offer, with improved network functioning, ease of use, and a greater allocation of games.
Play the Best Android Games
With this emulator, you'll be able to see all of the games you can access from the main window. You can search for your favorite games. On this platform, you'll be able to play some of the best games such as Call of Duty Mobile, PUBG mobile, Clash of Clans, Clash Royale, Brawl Stars, Arena of Valor, Free Fire, Clash of Kings, Candy Crush, and many more.
And you can decide exactly where you play your games. You can choose to play it on your monitor at a higher resolution, or you can decide to use your TV. You'll be able to use the power of your computer to bring you a better experience.
And of course, you'll be able to use your keyboard and mouse for playing your favorite mobile games.
Conclusion
GameLoop is an excellent Android emulator for playing games on this platform on your computer. It features a new set of useful features with the latest update.
It's a powerful emulator that will help you play some of the best games you can currently play on mobile.