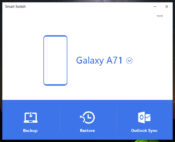 With Samsung Smart Switch, you can migrate data and files from one device to your Samsung device, allowing you to back up your data and make sure the migration goes as swiftly as it should.
When you own a Samsung device, you might be thinking about transferring files from your other device to your Samsung phone or other devices.
You can use Samsung Smart Switch, which makes it easy for you to transfer files to your Samsung phone, back up data and files so that you don't lose them, and much more.
Easy Way to Transfer Files
Samsung is one of the most well-known providers of smartphones. And they're also very aware of their users and how they use their applications.
And one of the primary concerns often comes when they try to transfer files from one device to their Samsung phone. It might happen as you buy a new device or when you want to add new files to your PC.
With this app, you'll easily transfer your files without the hassle of creating backups.
It is especially suitable when you buy a new phone from Samsung or buy another device and switch from your Samsung phone. It also allows you to create backups and other tasks.
Easy to Use and Install
You can create a backup inside the tool to ensure you're all set to transfer files. It is done with just a few clicks, enabling you to select where to save your files.
You can then start transferring the files from your device to your Samsung phone or another Samsung device you might own.
You can migrate everything from contacts, images, and music to messages, wallpapers, calendars, memos, videos, call logs, and more. All of that can be done with just one click, and the transfer will start.
Conclusion
Samsung Smart Switch is useful if you want to transfer files to and from your Samsung device. It's easy to use, and it comes with a simple interface.