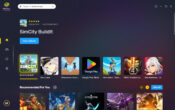 BlueStacks is a well-known software that will help you run Android on your Windows device and use many of the available apps on this platform without owning an Android device.
This environment will allow you to run your favorite games and apps on your desktops, such as Candy Crush Saga and WhatsApp Messenger. This application will offer you many options, and you can connect to AppStore and Google Play.
Android is the most popular operating system for mobile devices and other devices such as tablets. It is open, so anyone can add to it and create apps.
That's why many people prefer it to Apple. But did you know that you can now run it on your computer without owning an Android device?
Yes, that's right – you can do so with Bluestacks App Player, a well-known emulator of Android that will let you run this operating system on your computer.
Simple to Use
Even though BlueStacks is quite a powerful emulator, it still features an easy-to-use system that even the biggest beginners can use. It will look exactly like the mobile Android system, so you should be fine if you are familiar with it.
All the buttons are incorporated from Android so that you can start immediately.
You'll need first to install it, and then you can start using it. But note that you'll need a Google account and .NET Framework, which will help you run this emulator.
You'll then start using all the apps from the Android world and download them to your PC.
Download and Manage Apps
The built-in browser inside this tool will help you browse the internet for all the apps you can download. You may even see your Twitter or Facebook account with this browser if you want.
You can create shortcuts you download on your desktop. The loading times are quite minimal.
Conclusion
BlueStacks is an excellent Android emulator that will help you run Android and its apps on your computer.