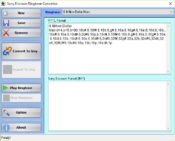 If you are a Sony Ericsson user, you certainly had problems when you tried to add your custom ringtone. If you still have this problem, then you have to know that it is a fix for this because thanks to Sony Ericsson Ringtone Convertor, it is possible to create your very own ringtone for your phone.
This app was made especially for users who want to develop IMY ringtones which can be used on Sony Ericsson mobile phones. The interface is easy to understand, and it does the job right if you decide to use it.
It also features some other tools which you may find useful. All you have to do is to click on a few options in this app, and after doing so, the ringtone is going to be ready for you.
Sony Ericsson Ringtone Convertor is straightforward to understand this tool and any user can quickly learn how to use it.