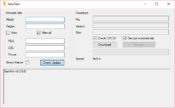 If you need to revert changes to the original Samsung settings on your tablet or phone after it has been rooted, then you can use SamFirm. You can use this lightweight software for getting to the older version of your mobile phone.
These settings help you get tired of the additional software installed on your device or want to sell your device to others.
You have to provide some details of your device with this application ad it will help you get connected with the original Samsung servers from where you can get the official version of the software quite easily.
The best thing about this software is that it is easy to use and free software to use anywhere to fix your devices and convert them back to the original settings.
SamFirm can help you get the original version of your device after the rooting has been done on your Samsung device.