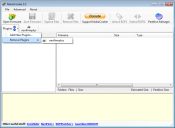 NokiaCooker allows users to perform modifications on the phone's firmware and customize it to a Cooked Firmware. Although capable of modifying data located in UDA, CORE, ROFS, and ROFx folders, this application does not have technical support or safety features whatsoever.
Aimed specifically at the advanced user, the software utility asks for good firmware components and plug-in management knowledge. Not every mobile phone has the ability to allow you to change the operating system to your likable extent.
However, Symbian is one of the rare systems that enable you to do that, making it so popular.
But you will also need a good tool to help you make the changes, especially if you have a Nokia phone.
If that's the case, then NokiaCooker can be an excellent app for you. It will help you create your version of the operating system, which includes flashing your phone's memory to allow the changes. It might be a bit risky to do so, but creating your operating system can be highly satisfying.
Tinker with the Firmware
With NokiaCooker, you'll be able to do just what the app's name says: you'll be able to cook your version of the operating system, which gives you a lot of freedom to make the changes you need to make it.
You can also install the new OS that you have made before, and you'll also be able to tailor that OS to your liking.
For instance, if you don't like a part of your operating system, you'll simply be able to delete it and replace it with other parts. If you don't want one part of it, you can delete it before installing it.
Portable and Supports Different Formats
Another great advantage of using this application is that it is highly portable, and it brings support for different formats.
There's also a partition manager built into the app, so you'll be able to manage partitions. You get a handy set of tools with this app.
Conclusion
NokiaCooker brings you another level of customization to your Nokia device, as you'll be able to install your OS and customize it as well.