Samsung PC Studio 7.2.24.9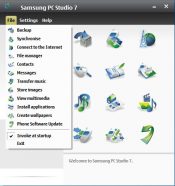 Samsung PC Studio lets you view, copy, edit and organize contacts, appointments, tasks, and any other personal information. It works as a sync application, thus providing text message or multimedia message synchronization with the PC. In addition to that, you can browse folders, transfer files, and use the phone as a modem in order to connect to the internet. The multimedia manager helps users import, play or modify a variety of multimedia files.
Moreover, your phone will always be up-to-date, thanks to the Live update function. This is a basic solution for keeping all personal data safe within a back-up file, while performing well at multimedia transfers between the phone and the PC.