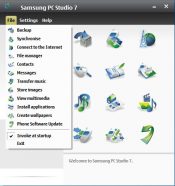 Samsung PC Studio is designed for all Samsung phone device users to help them sync their files with their computer, manage their device in more detail, and make overall changes to it.
Samsung is one of the largest companies in the world and certainly one of the large mobile phone companies. It has millions of users worldwide, and they also have some fantastic devices on offer.
But more importantly, with intuitive software, Samsung supports its users.
This app was designed for Samsung phone users to help them synchronize the content on their phone with their computer, manage their device on their computer, and perform other tasks connected to their mobile device management.
Samsung's Phone Management App
In essence, this application was designed for Samsung users. It acts as a workstation for managing Samsung devices from one place, making it easy for Samsung phone owners to change their phones easily.
It's also powerful because it allows managing Java and Symbian-related apps.
File Transfers, Syncing, and More
And when it comes to managing your Samsung phone, you'll have plenty of features this app offers to help you out. For instance, you'll be able to complete file transfers with it and copy and paste music or photos in just a few simple steps.
What is more, there are also other tasks that you can undertake here. You'll be able to synchronize with the most commonly used email clients such as Microsoft Outlook, Outlook Express, Lotus Notes, Lotus Organizer, and others.
Samsung PC Studio brings many features to its end users while remaining user-friendly enough, even for the more beginner users.
Conclusion
Samsung PC Studio is an essential app to use for every Samsung phone owner. It will help you manage your phone more easily, perform tasks that help you get more out of your device, transfer files, and much more.