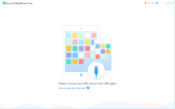 If you have an iPhone, transferring your data to your PC can be painful. What you need is typically a solution that is easy to use and can work with your devices no matter what they are. That appears to be exactly what MobiMover is.
Easy to Use
If you have a manager who makes transferring tools like a breeze, you have nothing to worry about. You can transfer content from your devices, so you are never without what you need.
It comes in handy now and will go down the line.
Intuitive
It's useful how intuitive this app is. It's something to see for yourself. We think users will be just as surprised as we were.
Read and Extract Data
It doesn't matter if you have a photo, video, or other folders.
You can select it, and the app will ensure it ends up on the target PC, which you have determined.
Summary
When looking at everything, it's clear to see why we are recommending this app. It solves the most important problems surrounding getting information from your phone to your computer.
This is especially true if your mobile device is made by Apple, whereas your computer is a standard PC. So never be without your information again.
We recommend downloading MobiMover and trying it out today.