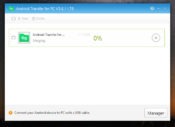 If you have a smartphone, you probably know how difficult it is sometimes to transfer files you need from your computer to your mobile device or vice-versa. Therefore you need an application like Android Transfer for PC which brings you a lot of features that you find useful, and as you use this tool, you will see why a lot of people like it.
Android Transfer for PC won`t require jailbreak on your phone, and it is compatible with iOS 9. This tool is known because of all the apps that have been added to it, so it wouldn`t be hard to find your favorite app.
Another feature that you may find useful is the organized one, which lets you put the music, apps, and even games in the desired order.
It has an easy-to-use interface that you can use the way you want, and you won`t have any issues in doing so because this app was made for all users.