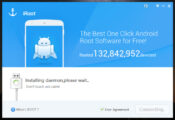 Root your Android device easily with VRoot, which will help you get some administrator privileges on your phone to make changes that you were previously unable to do.
Rooting your Android phone might be one of the more advanced things you'll do with it. But when you can successfully do it, you'll have access to some settings and features that were previously not available. However, rooting requires you to have some special skills and software that will help you perform the rooting procedure.
With Vroot, the rooting process becomes easy. It has a simple interface lets you root almost any Android phone, and most of the work is done automatically.
With it, you'll be able to access some important settings and features previously locked and unavailable for you as a regular Android user.
Root Your Android Phone
All of the tool features are accessible through the somewhat simple interface that comes with the tool. All you need to do to root your phone is open up this app and install it. The next step will be connecting your phone to the computer. The phone should be automatically recognized both by VRoot and your computer.
All you need to do next is click the "Root" button. Then, the app will automatically try and root your phone, as it will automatically display all the information about the phone and the status of the rooting procedure.
It will also notify you whether or not you can root it successfully. Not all Android phones can do this.
There is one minor problem you should be aware of, though. Namely, the license agreement comes only in Chinese, which some users might find problematic. However, the app should run without any problems for most users.
Conclusion
VRoot is a rooting application that will help you root your Android phone and access some settings and features that were previously not available.