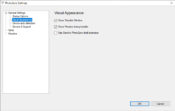 You need this application to synchronize your pictures on your iPhone or other Apple devices to your computer. The transfer process becomes quite easy using PhotoSync Companion, considering the incompatibility of the Windows operating system with iOS.
You must drag and drop the files you want to synchronize to or from your iOS device.
You can access the application from the tray area to get the required work done more easily. You can change the directory to transfer the files from your iOS device to your computer. It is just a matter of a few clicks.
You can manage the settings of the application depending on your needs. Hiding the transfer window, previewing the window, and managing the drag-and-drop feature at the start of the application are some features you can completely control.
With the moderate requirements of system resources, this application is intuitive, providing you with better managing your pictures.
PhotoSync Companion allows you to keep your pictures on the device you want, whether it is an iOS device or your computer.