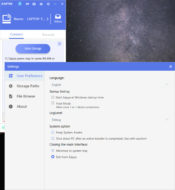 Zapya is a nice and versatile app that will allow you to transfer files between your PC and your phone, which includes both IOS and Android devices.
If you're looking to connect your phone to your computer, then one of the first ways you can think of is that you'll need a cable to connect it.
However, cable connections are quickly becoming a thing of the past because many different tools enable connections without ever using a cable.
It is aimed at phone users and computer users alike, as it enables quick connections using your wireless connection between your phone and your computer.
It then allows you to transfer files from your phone to your computer and vice-versa, regardless of what system you're using.
Versatile Transfer Tool
With Zapya, you'll be able to initiate transfers of all types to and from your mobile device. Most importantly, it is aimed at all mobile devices, including Android and iOS.
It gives you great freedom when you want to work with different types of phones. After the connection is established, you can scan the QR code to get started.
You'll also see that the app has a very easy way of using it. When you want to transfer files from one device to another, you'll be able to use the drag-and-drop interface, and the rest of your work should be simple enough.
It is a great app if you want quick, painless transfers without too much work.
Transfer Different Files
With Zapya, you can transfer different types of files to and from your phone, regardless of whether you want to transfer music, audio, video, and photos.
There are no limits as to what you can transfer with it.
Conclusion
To conclude, Zapya is suitable for all users who want to transfer between their Android and iOS phones and computers easily.