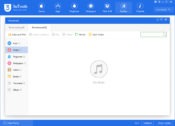 3uTools allows you to flash firmware options to your iOS device and jailbreak it into a simple interface with the help of a handy application with simple tools.
iOS Jailbreak Made Easy
When you want more control over your iOS device, you might want to jailbreak it to get access to some unseen or commonly unused features by Apple users.
This way, you can get 3-rd party applications and make some tweaks that were not possible before, and even add pieces of unsigned code that can change your experience entirely.
However, you need a dedicated software to help you do that. With this utility, you'll be able to flash firmware options to your iOS device and jailbreak your device so that you can use unseen features and add 3-rd party applications to the device.
It comes with various tools that will help you create your own experience, although you'll need iTunes to use this tool.
Simple Flashing Tool With Some Advanced Options
First, you'll need to install 3uTools on your device. This process is normally easy and simple, as it requires no prior knowledge for installation. It has a smooth user interface that helps you achieve tasks easily. All the tool's functions are arranged so you can easily access them.
But you will need a good deal of knowledge about flashing and jailbreaking. Ideally, it would help if you did this before trying this tool.
It has some basic flashing tools, allowing you to choose your desired firmware options, toggle user data deletion, and use more advanced features such as system partition management.
The app makes it easy to flash your device and make the changes you want. If you have some knowledge about flashing from before, you'll find this application extremely easy to use, and it also comes with some more advanced tools.
Conclusion
3uTools is a flashing application that will help you tweak iOS and bring previously impossible changes.