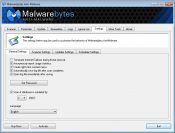 Malwarebytes detects and removes all malware signatures in a fast and easy way. Built on the most advanced technology yet available, the malware detector identifies worms, Trojans, dialers, spyware and, most important, it warns users about dangerous rogues trying to obtain money through social engineering methods.
Malicious root kits that hide in the background and act against the computer on privileged rights are also detected and removed in a blink of an eye. Once installed, the anti-malware tool scans the PC on demand or at certain intervals and eradicates all known threats from the computer, as the chameleon technology allows it to work even on infected systems.
Instant updates and real time prevention technologies act against malicious web content by blocking access to it and informing the user about the threats posed by that website.
Malwarebytes features and benefits:
Advanced malware detection and removal
Multi-language support
Fast response malware database and heuristics updates
Access to our expert community and knowledgeable support team