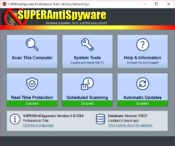 SUPERAntiSpyware helps you scan and remove the spyware from your computer, which will help you fix and avoid problems caused by malware and stay safe.
Malware and spyware are getting increasingly big on the internet, which has become a problem for many computer users.
Spyware will keep collecting your data and information, which can be problematic for everyone. And malware might cause problems, and it can cause your computer to crash and not work properly.
You can easily avoid all those problems using SUPERAntiSpyware, a powerful malware and spyware removal program. It will help you detect the spyware and malware you have on your computer and then remove it or move it to quarantine.
It will help you protect yourself from malware like keyloggers, dialers, worms, and hijackers.
Various Scanning Modes
To start with the SUPERAntiSpyware, you'll need to install it on your computer first. Luckily, the app is easy to install, and it should not take you that long. You'll see that you'll have several modes to start scanning right away as you get started.
You can choose the quick scan as the fastest way to get started or opt for the complete scan to enable you for a full scan.
Whatever you choose, the app will detect malware on your computer, and you can always stop the process halfway through if you want.
When it finds any malware, it will give you various options to let you deal with it – you can either delete it or move it to quarantine.
Fix and Tweak Problems
This application lets you solve some of the most common problems caused by spyware and malware.
It presents a super-easy way to fix your problems easily and quickly without spending a fortune.
Conclusion
SUPERAntiSpyware is an effective program to help you remove malware and spyware from your computer and solve some of the most common problems caused by malware and spyware.