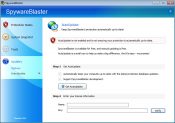 SpywareBlaster is a free antispyware and antimalware solution that integrates adware removal and hijacking blockers for the safety of your online browsing, as it displays wide compatibility with almost all internet browsers.
The good side comes from not interfering with normal activity on the web and working alongside previously installed antivirus software. A multi-angled protection feature prevents it from installing undesired programs and ActiveX-based spyware.
Activities are no longer tracked down thanks to a special option that restricts spying through cookies and third-party logs and warns you when a dangerous website is trying to access the computer.
No performance issues will appear, as it drains second-to-none hardware resources, pleasantly and freely integrating itself alongside other security software solutions.
SpywareBlaster features and benefits:
Prevent the installation of ActiveX-based spyware and other potentially unwanted programs.
Block spying / tracking via cookies.
Restrict the actions of potentially unwanted or dangerous web sites.