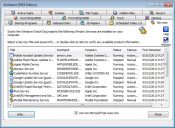 WinPatrol cleans and prevents spyware, worms, adware, cookies, and other malicious software from damaging or slowing down the computer. It has a reputation for performance while lightweight and crapware-free.
This security tool was the first to act upon behavioral scanning to detect and block infiltrations and Zero-Day attacks.
Simplifying registry access and constantly updating the list of programs running on the computer, this tool provides users with the easiest way to monitor critical system resources in real-time.
While the above features seem straightforward, others may be confusing because Cookies, Hidden Files, File types, and other tabs were created for the advanced user only.
A help tab is there nonetheless to guide you through the inner workings of this small antispyware tool.
WinPatrol features and benefits:
Improve your system performance and speed
Detect and neutralize spyware, adware, viral infections, unwanted browsers add-ons
Filter unwanted cookies

Detect HOSTS file changes
Kill multiple tasks that replicate each other, in a single step
Stop programs that repeatedly add themselves to your Startup List