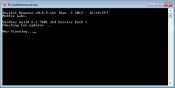 Rootkit Remover is designed to handle complex rootkits that cannot be detected and removed by general antivirus software. A standalone tool indeed, this tool can identify and erase almost every rootkit version yet created, starting from ZeroAccess and ending with the TDSS family.
When you are a target of a rootkit attack, you are probably unaware of it. It will happen without your permission and knowledge, and it will also occur on the privileged account on your computer. It means these files can harm your computer and your files, too.
You can remove the danger of being attacked by rootkits with Rootkit Remover. As the name suggests, this utility effectively recognizes and eliminates rootkits on your computer and other potentially malicious files.
It will detect rootkit families such as ZeroAccess, TDSS, and Necurs.
Effective Rootkit Removal Tool
Before downloading this app, you should know that it's a rootkit removal application, not an antivirus. That's a general mistake that people tend to make. Rather, it's a detection algorithm that will trace and locate traces of rootkit families on your computer.
The best way to ensure that you remove the rootkits is by starting a complete scan on your computer. You can do that with the Full Scan capability, where you can start it in just a few clicks.
It might take some time for the scans to be fully complete. After they are, you can instruct it to remove them or have them removed yourself.
Remove Rootkits Effectively
Rootkit Remover works automatically, so you can instruct it to find any leftovers or rootkits and then remove them automatically. You won't have to do too much other than click a few buttons to get this action going.
It makes it simple and easy to use, even if you don't know about these types of files.
Conclusion
Rootkit Remover is an effective solution if you want to remove rootkits and leftover files from your computer. It's one of the better applications on the market, and it's easy to use thanks to its automatic mode.