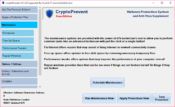 Prevent your computer from being accessed by the CryptoLocker worm by locking down some of the most important files and locations on your computer.
If you follow the world of cybersecurity just a little bit, then you know that ransomware attacks are some of the most popular attacks by hackers at the moment.
With this type of malware, they lock users out of their computer by locking some files or folders on the computer, demanding payments or different types of concessions for access to files.
You can protect yourself from such attacks by using CryptoPrevent, which will prevent a highly popular ransomware-type called CryptoLocker.
You'll be able to choose which locations you want to protect, which will keep the CryptoLocker worm out of your computer and keep your sensitive files and folders secure.
Prevent Ransomware Attacks
CryptoPrevent is highly efficient at protecting you from CryptoLocker. Note that the app might not be suitable for other types of ransomware, and it's specifically designed for CryptoLocker.
But it is highly effective and very powerful for the said type of malware, as it will keep it out for the locations that you want to keep safe.
Filters Suspicious Files
It works because it will act as an active shield for the selected files or folders on your computer.
Once you select which file you want to protect, the app will constantly search and scan your computer for the files and services looking to access the desired location.
If it detects something suspicious that might harm your computer, it will warn you and delete the unwarranted file immediately. You'll also need to permit the app for further actions, of course, but you can also use the silent mode, which performs the desired actions on its own.
With this powerful shield, you'll keep yourself and your files safe while keeping ransomware far away.
Conclusion
Protect yourself from the CryptoLocker bug by using CryptoPrevent, which is highly effective at detecting this specific type of malware on your computer and deleting it before it does any damage.