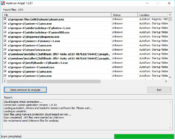 Autorun Angel is an excellent tool for protecting your computer from spyware by checking for undesirable components that are launched automatically. This tool is a cloud-based autorun manager used by users to monitor which programs are launched at Windows startup.
Take Control Over Hidden Viruses
Autorun Angel can be used to check if there are possible spyware and viruses on your PC. It is a portable program, which means that it won`t leave any traces in the Windows Registry. It will be pretty simple to copy this tool on a USB flash drive and use it every time you need it. It will manage to scan autorun items for malware on the breeze.
Easy To Install
This tool will also offer you the protection you need without having to go through the installation steps. All of the operations you want to perform can be done with minimum effort. It will be straightforward to work with this tool, and it will automatically scan the autorun and the memory areas for malicious items. It will display the results in the primary panel.
Autorun Angel will also be able to identify the hidden viruses, and it will provide all of the information about the total number of autorun items detected on your system. It won`t be able to identify some of the items, but it will offer the users the possibility to send the file for further analysis.
Monitor All Operations
It will also keep a log that will provide information about the entire scanning task and the possible errors.
All of the data can easily be copied to the clipboard. It usually does all of the tasks quickly, and as you will see by using this one, there won`t appear any errors. It is a friendly tool with the system resources, so the computer's overall performance won`t be affected if you use it.
To Conclude
Autorun Angel is a simple and easy to use tool which will help you identify autorun threats that may compromise your PC security.