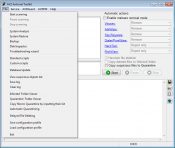 AVZ Antiviral Toolkit is meant to be a complete antimalware solution that integrates several modules intended to keep users safe of spyware, adware, dialers, Trojans, backdoors and many other threats coming from the daily use of an e-mail account, or from apparently friendly downloads. The analysis of registry files, memory modules and media devices is considered for a heuristic checking of the system, based on a huge data base of digital signatures.
The results are further interpreted so that no keylogger or rootkit can survive the built-in analyzer, which is quite complicated to use at first sight, due to numerous options, parameters and testing facilities.
This having been left behind, one can't see the benefits of the firmware recovery tool, the possibility to check archives, to control scripts, clean the Kernel module, and monitor different process and drivers.
AVZ Antiviral Toolkit features and benefits:
Built-in detection for rootkits

Keylogger detector
Built-in analyzer for Winsock SPI / LSP settings
Built-in analyzer for TCP/UDP open ports
Ability to scan the archives
Built-in utility to verify registry integrity