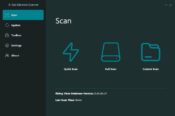 X-Sec Malware Scanner can detect and remove viruses and malware from your PC. It works without installation and can be downloaded to access its multiple features to protect your PC.
 In the internet world, there are many possibilities online and many threats. Almost every file you download from the internet is at risk of being infected with a virus looking to exploit your computer and your files.
That's why you require good protection from these threats through an antivirus.
X-Sec Malware Scanner is a powerful and lightweight antivirus that will help you detect and remove malware from your computer.
It's straightforward for almost everyone as it offers a very automatic way of working and a more advanced mode of use to customize what you can do with it.
Lightweight Antivirus
The first thing we should mention about this antivirus program is that it doesn't need to be installed. You can start using its capabilities as soon as you download the files.
It also comes with a simple interface that allows you to work with it quickly, so you don't waste time with useless settings.
Detects and Removes Malware
As you can expect, this is an antivirus, so the main purpose will be to spot and remove malware from your computer. The great thing about it is that it can work automatically, so you don't have to do much to stay safe.
But you can also customize how the antivirus works so that it is suited to your needs.
With that in mind, you can also set up regular check-ups and scans on your computer to stay safe. Depending on your needs, you can do a quick, full, or custom scan.
These scans can take some time, depending on the size of the scan and the files scanned.
Removes Malware
Once malware is detected, you can remove it completely, move it to quarantine, or do nothing with it.
Conclusion
X-Sec Malware Scanner is a complete antivirus package that can protect your computer and files from malware capable of harming your computer.