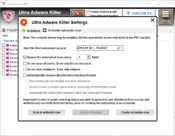 Do you want to remove adware from your computer? Then you can use the Ultra Adware Killer, a powerful and effective remover of adware and all the adware traces from your PC.
When you download and install apps from the internet, you'll almost certainly come across some apps that will also offer third-party applications as a part of the installation.
It might be a simple thing like a toolbar or new software that you probably will never use. For that reason, adware might be slightly annoying.
If you want to remove it, you can use Ultra Adware Killer. This tool was designed to help you scan your computer, find adware on the hard drive, and find traces of adware that might be wasting your computer's space.
Scan and Find Adware
First of all, we must mention that Ultra Adware Killer is a portable application. With it, you can find adware on almost any device, as long as you have the file on the computer.
You can also use it with a USB drive, allowing you to use the app anywhere. You don't need to install the app –run the file and get started.
Then, you can start scanning your computer for unwanted adware on the drive. The app will automatically scan your drive, although you can also set some parameters for the search.
The scans are done automatically, but what you choose to delete from your computer is up to you.
Delete Unwanted Apps
Once the app is completed with the scanning process, you can start deleting your computer's files. You will have the options to choose which files you want to get rid of.
It includes various PUPs, toolbars, other features for web browsers, and other things that might be clogging up your computer.
You must have a complete antivirus program installed on your computer if you want full protection from malware and information hackers. However, you cannot use this application as an antivirus. It only provides second-tier protection.
Conclusion
You can get rid of the adware from your computer using Ultra Adware Killer, a portable and powerful tool that will help you keep your computer clean and free of any adware and the potential traces that come with it.