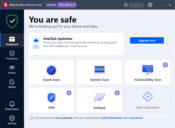 Antivirus can help you in keeping any virus away from your computer. Bitdefender Antivirus is different from the alternatives present on the market because you don't have to get notifications every minute when using this application, which makes life a lot easier.
Effortless Antivirus Protection
It is a discrete solution that can manage problems of a general nature on its own and creates alerts only when necessary. So, you can expect to focus on your tasks rather than handling the issues your antivirus faces.
You can scan your computer whenever you want. The initial scanning helps the users find their device's existing condition. Based on the current situation, you can expect Bitdefender Antivirus to act and take up the security condition of your device.
Seamless Security
However, even without regular scans, you can expect Bitdefender Antivirus to perform diligently in keeping the viruses and malware away from your computer.
With only a mouse click, you can manage the auto-scan features, turn off the antivirus, and know your device's current situation.
Threats found in the system are sent to quarantine, and you can have the full details of these files there, which might help you decide the level of threat that they can impose on your system.
The interface is simple, and the lightweightness of the application allows you to continue your normal functioning without facing any interference.
Conclusion
Bitdefender Antivirus is a solution for foreign threats to your system. Its unobtrusive nature and intelligent alert system allow you to work without constant interruptions.
With real-time threat detection and a user-friendly interface, Bitdefender provides a seamless and secure computing experience.