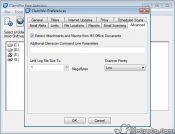 ClamWin Antivirus is a useful and helpful free antivirus that will enable you to protect your PC and stay safe with this free-to-use antivirus that also has a scheduler and some additional functions to help you out.
Antiviruses are meant to protect you personally and your computer's files. If you're often on the internet and downloading new items constantly, then you might want to think about enhancing the protection of your computer. Yes, the firewall can do a great job at this, but you can take things even further if you use an antivirus.
You can consider one of the better free antiviruses called ClamWin Antivirus. This antivirus brings all the features you'd want from an antivirus, with some additions.
Namely, it will contain a scheduler, database updater, standalone scanner, context menu integration, and several other additional features.
Scan and Secure Your Computer
ClamWin Free Antivirus will perform constant scans on your computer to ensure that it's completely safe and protected from viruses and malware. If it detects something unusual on your drive, then it will warn you and help you make sure that you remove the threat.
There is no real-time detection, but you can schedule scans so that you're able to make sure the viruses don't go undetected on your computer.
And if you're worried about new viruses, it will also come with a database updater, which will help you make sure that all of the information about new viruses is collected.
Tons of Settings
Another benefit of this program is that it has plenty of additional settings that you can use for your scanning. There are many dedicated tools for your work and scanning for internet updates, proxy servers, and more.
You can also use the app with a third-party toolbar that will help you scan your browser, which comes useful when you're on the internet a lot and are worried about your safety.
Conclusion
If you're looking for a decent and powerful free antivirus, then you should consider ClamWin Antivirus. It comes with all the necessary tools you'd come to expect from an antivirus.
ClamWin Antivirus features and benefits:
High detection rates for viruses and spyware

Scanning scheduler
Standalone virus scanner and right-click menu integration to Microsoft Windows Explorer

Addin to Microsoft Outlook to remove virus-infected attachments automatically
Automatic downloads of regularly updated Virus Database